Now that it's September, it's time for me to do my monthly post of thanking my top commenter, top Entrecard droppers, tagging, awards and social networking for the past month.

Marzie with her Wishing on a falling star & MPG is my new top commenter. Thank you also to Purplefrogcat and others who always leave your foot prints. This month one of my posting breaking the record received more then 100 comments. The word to describe how I feel when I get comments from each of you: HAPPY!! So, your comments are welcome. ...

1000 EC waiting for September top commenter

!!!
Here are the top droppers for the month of August.
Thank you to all of these great blogs and their owners for supporting bonoriau. Please take a moment to visit these great sites. You may just become a regular there too.

Thank you to AGP , RestnRileks and AZblogging for tagging bonoriau.

Thank you also for inspiring friendship awards from Emila and RestnRileks, kick ass blogger award from AZblogging and joy0z, brillante weblog award from shinade and the latest I love your blog from AZblogging and AGP top dropper from Jean.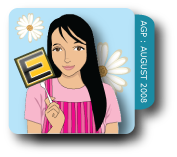 Thank you very much to all who join bonoriau social networking Mybloglog , Blogcatalog , Technocrati and the latest Google Follower. (Those who still not joining my community you are welcome)
.
Thank you also to those who join
AdSperes and ClixSense
(Promoting & Make money from you
r weblog)
.
I'm sharing and passing this great award from AZblogging to great blogs
Marzie, BaliDreamHome, RestnRileks, Emila, Purplefrogcat, Shinade, joy0z
,
Ladyjava, AGP, Indocontest
,
MichaelAulia
,
Eastcostlife
If you like this post then please consider subscribing to my full feed RSS. You can also subscribe by Email and have new posts sent directly to your inbox. Subscribe and

receive a one-time bonus of 50 EC credits and leave your comment.